Disassembly
Enough was enough and it was time to make this truck as right as I could. As the biggest problem seemed to be that the engine and transmission were never properly aligned that was the first priority. Plus there was something funky about the motor and transmission mounts and that needed to be dealt with. I decided the best way to deal with the problems was to tackle them head on and tear the truck down forward of the firewall.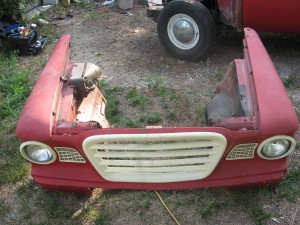 Front clip removed.  Those small grills on either side of the big grill are the fresh air intakes, the one on the left goes to the heater.
Easy access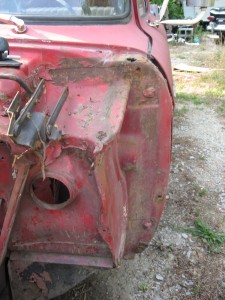 Ugly, but solid (if a little bent).  That hole is the drivers side fresh air intake.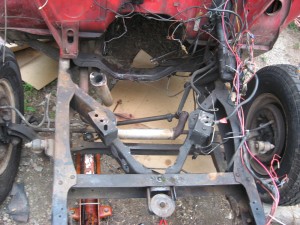 Engine removed.
In this picture you can see the new exhaust system along with a piece of the old one.  When the new one was being installed they couldn't get the nuts off of the right exhaust manifold and so welded the new system onto the stump of the old.  That is one of the things that will be taken care of during this project.
Inner right front fender.  On Champs and early Larks the heater is mounted in that square hole, this is where the air from the right side grill goes.