"It's Tougher Than The Job" – A bit of history
From the days of the horse drawn wagon Studebaker built cargo hauling vehicles, and the last of their light cargo haulers was the Champ pickup. By the late 50's Studebakers venerable "C" cab truck was showing its age, and the truck division was anxious for a new truck.  As always money was short so Studebaker's talented designers got creative. They combined the basic frame from the old truck with the sheet metal from the front of the new Lark sedan and created the new Champ, which was introduced in 1960. The most common engines in the Champ were Studebaker's venerable 170
cid flathead six, the overhead valve version of the same engine and their 259 cid V8, the 289 V8 was also offered, and for the 1960 model year the Commander 245 cid flathead six was available.
Two were built with the Avanti R2 Supercharged 289 V8, one is in California, the other disappeared into Indiana in the early 70's and would be quite a find.
Champs were offered in both short and long wheelbase versions, and with both a narrow and a wide box, the latter being available starting in 1961 and built with dies purchased from Dodge.  So if you see a widebed Champ and think the bed doesn't look like it was made for the truck that's because it wasn't! Right from the beginning Studebaker offered a first in the Champ, a sliding rear window in the cab. That turned out to be quite popular, so popular in fact that most pickup's built today use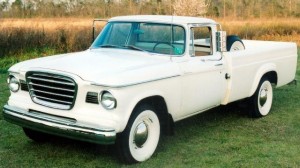 this Studebaker innovation. Champs are nice driving, durable little trucks, about the size of  the Dodge Dakota that came years later (and actually looks rather similar). The Champ was built through the 1964 model year, it's production ending with Studebakers closing of it's South Bend plant.  If Studebaker had been healthier it's interesting to speculate on what the Champ would have evolved into, but alas that was not to be.