Problems
In addition to aligning the engine transmission there are a lot of other problems I'm going to take care of, not the least of which is the damage to the hood caused by it blowing open, AND adding a safety latch to keep it from happening again!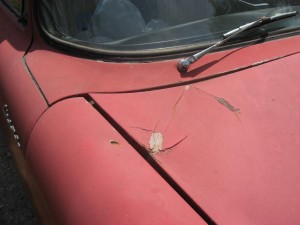 Right Hood Hinge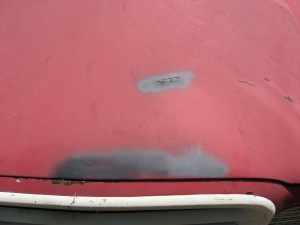 Fan Blade Damage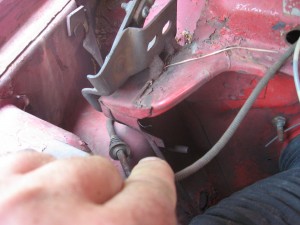 Broken tack weld on hinge. As part of that ill fated street rod project a PO cut off the hood hinges!
No safety  catch!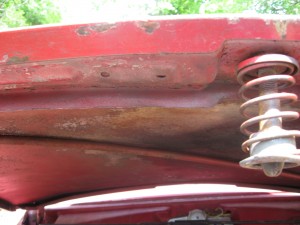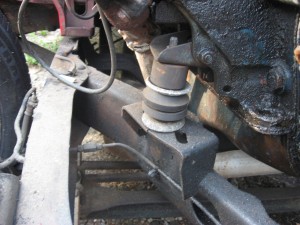 Front motor mount.  Not exactly stock, this is made of front suspension bushings from an mid 60's Chevy.  No big surprise it didn't work very well, not only were they too flexible but the engine sat up too high and too far forward.
After the ugly motor mount was removed more ugliness was underneath, a broken motor mount bracket.
Speaking ugly how about that clutch linkage bracket!  The funny angle of the pivot shaft was the first clue I had that something seriously strange was done to this truck.   Also notice the bent drag link, the result of a very dark night, a country road, and the lights going out.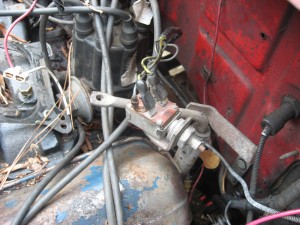 Overdrive kick down, this has never worked while I've had this truck, it will once this project is completed.
So THAT'S why it was jumping out of gear!  If you look carefully you can see that the pilot bushing is broken.
The engine is obviously too far forward, it should sit down inside the frame.
In addition to the problems above there are other things that need to be dealt with.  When I bought the truck the interior had been gutted.  I put in some carpet, made some Masonite door panels and put in a radio and heater blower (even that was gone!), but that cab is crude at best, it doesn't even have a headliner.  By the time this project is complete the cab will be a nice, comfortable place to be.