Suspension and Brakes
Finally some more progress.  The cleaned and painted front springs have been installed with fresh bushings along with the cleaned and painted front axle.  I've also started installing the Turner brakes. I've run into a couple of problems with them, one is the holes in the spindle plates don't quite match up with the holes on the caliper mounting brackets.  I guess that's one of the things you just have to deal with when modifying 50 year old vehicles. The other problem is that the kit included two right calipers and no left one.  I've sent Turner Brake a note letting them know but haven't heard back yet.
I also test fit one of the new wheels, doesn't look bad at all!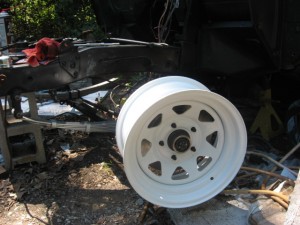 September 13.  Ran into some problems, not the least of which was a ridiculously hot summer (working in God's garage has its disadvantages!).  Jim Turner sent a replacement caliper and today I got the other rotor and the calipers in place.  It also looks like the factory 16″ wheels will work just fine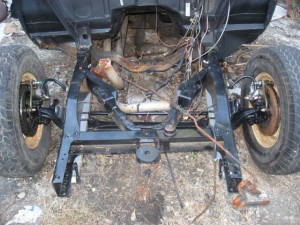 Next I need to get the rear done, but I'm waiting on new rear seals from Studebaker International, if they come early enough tomorrow I may be able to get the rear end done too.
Turner Brake says you may have to use GM wheels with their brakes, which is why I got the new wheels.  However it looks like the 16″ wheels are big enough to clear the calipers, the only sound when spinning the wheels is a slight scuffing sound from the pads on the rotors.  The works out nicely though as I'm getting the mechanical work done first. After driving the truck a bit and making sure it's really working well I'll do the exterior and finally the interior.  It also means I get to drive it around looking like it always has but being pretty much new underneath.
Sunday, 9-19: One of the challenges with this project is storing stuff.  Some gets stored in the cab, some in the little trailer, and it's difficult to keep the stuff anything like organized.  Today I cleared out some of the junk and went through the parts to get them more organized.  Also purchased some new dust caps at Auto Zone along with a socket so I could tighten the caliper bolts.  The calipers are now firmly bolted in, the dust caps are on, and one of the shocks is installed.
One of the pieces that's disappeared is the left lower shock mount.  Next I'll fabricate one and get the other shock installed, should be done next weekend.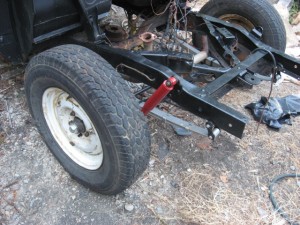 September 19: Fabricated and installed a new left lower shock mount and installed the shock.  Aside from the bearing plates and bleeding the brakes (and of course the missing drag link and steering box!) the front end is DONE!