Two steps forward, one step back
This weekend I was hoping to finally get the floor done, and well… the welding is done on the drivers side but once again I found more problems.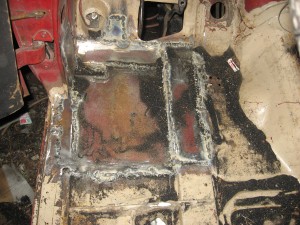 Drivers side done, the black stuff is Black Diamond blasting material.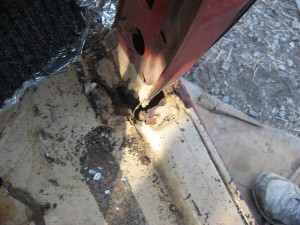 One of the problems that needed to be dealt with was the door post on the drivers side.   When the carpet was pulled up I found that not only was the door post loose from the sill it was also lose from the floor.
About an hour later that was fixed.  It's not a professional repair but it's solid, not only that but after a quick adjustment the door now closes and latches easily, and the whole back of the cab doesn't move anymore!
That was the good news.  The plan was then to patch a crack on the passenger side, sand blast it, and then use POR-15 and fiberglass to strengthen it and stop any further rust.  As with so many plans reality stepped it.
Things were worse than I thought.  There was more of that miserable "No Parking" sign and LOTS of silicone sealer… and it was hiding some real uglyness.
It's not as bad as the drivers side, but bad enough.  The cab mount was pretty much held in place by all that sealer, but at least the side of the cab is still attached to the floor.
I also took a big screwdriver and punched the floor all around.  It punched through for about 4″ back of the corner but the rest of it was pretty solid.  So I'm going to cut out this damaged section and weld in new metal, but doing the whole floor like on the drivers side isn't necessary.
Today I removed the damaged section and made a patch, including a reinforcing plate where the cab mout goes.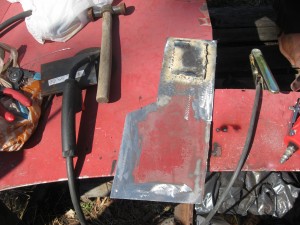 Too bad I welded the reinforcing plate on the wrong side! (As the immortal Homer said "D'OH!).
Patch trimmed a bit and welded into place.  A few more small pieces and some attention to that area just to the left of the patch and I should be done welding on the floor.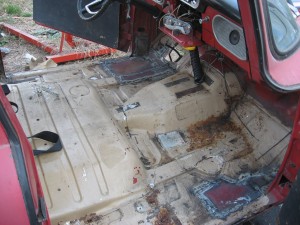 Next Sunday I should get all that done and plan on giving the floor it's POR-15 and glass cloth treatment.