The story continues…
The last bit of work shown was about a year ago and then things stalled for a number of reasons.  Now I'm itching to get to work on it again, and one of the reasons for this blog is to get ME excited about my truck again.
One of the problems with POR-15 is that if exposed to sunlight it gets gray and loses it's gloss, so all that shiny black paint in these pictures is more gray and dull.  Not a problem, on the frame I'll scuff it up and paint it black, the parts of the firewall painted with the stuff are going to get coated with bedliner anyway.
Today is January 20th, and it's a snowy, cold day.  I'm looking forward to some warmer weather (maybe as soon as this weekend) to get back to work.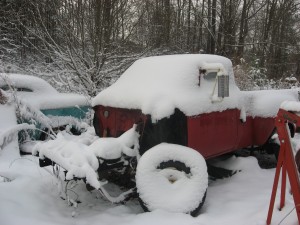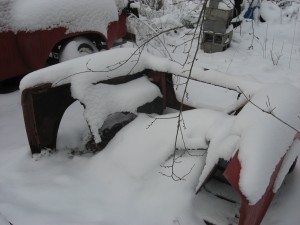 First projects to tackle are that broken motor mount bracket and then putting POR-15 on those brackets along with the axle and the brake backing plates.  Once those are complete I can start putting things back together again!