Cleaning, blasting and POR-15
Now that it's mostly apart comes the "fun" part, cleaing over 40 years of dirt, grease and a bit of rust.  After using a putty knife, generous amounts of Simple Green, and lots of elbow grease it was time to get REALLY messy, with a sandblaster.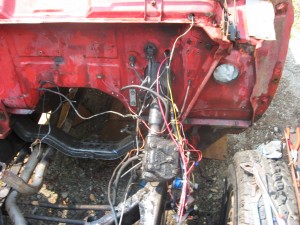 The steering box had about 1/2″ of grease on it.  Yes, the wiring is going to be addressed too.
Frame clean and ready for sandblasting.
Frame after sandblasting.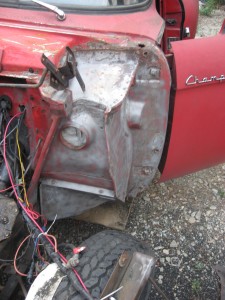 This is the firewall behind the left front fender, here it is blasted clean.
Here is the same part painted with POR-15.  Eventually this section is going to be coated with sprayon bedliner, the unfinished section will be painted red to match the rest of the engine compartment (and eventually the rest of the turck).
Now the front part of the frame and both sides of the firewall have been painted with POR-15.
A case of the "Might as well as" disease struck.  While the front end was pretty solid (these are VERY tough front ends), it IS most of 50 years old and among other problems there is that bent drag link, rusty springs and bad spring bushings, so there is no time like the present to take care of those problems too.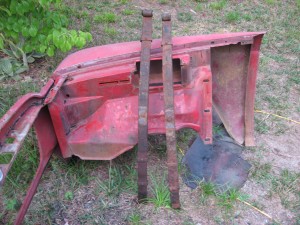 Rusty springs.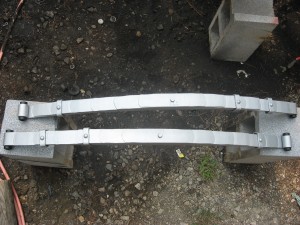 Springs cleaned, sandblasted, primed, painted and with new bushings installed.
Front axle removed, as you can see this is not a sophisticated design, but it's very solid.  Of course the bent drag link is quite apparant.  For those of you used to modern vehicles note the lack of ball joints.  This truck like all Studebakers used king pins instead of ball joints.  King pins are an older design but they are MUCH stronger and if they do fail the front end will not collapse as a ball joint suspension will.
Front of the frame clean  and POR-15′d, top and bottom.  That round piece in the center is where the radiator saddle attaches and that supports the front of the cab.